Victorian design dates back to the second half of England of the 19th century. It combines the opulence and the elegance of the era, its comfort, and traditions. The founder of the style is Queen Victoria. During her reign, the bourgeoisie began to flourish, thanks to the development of English industry and the colonies dominated by England.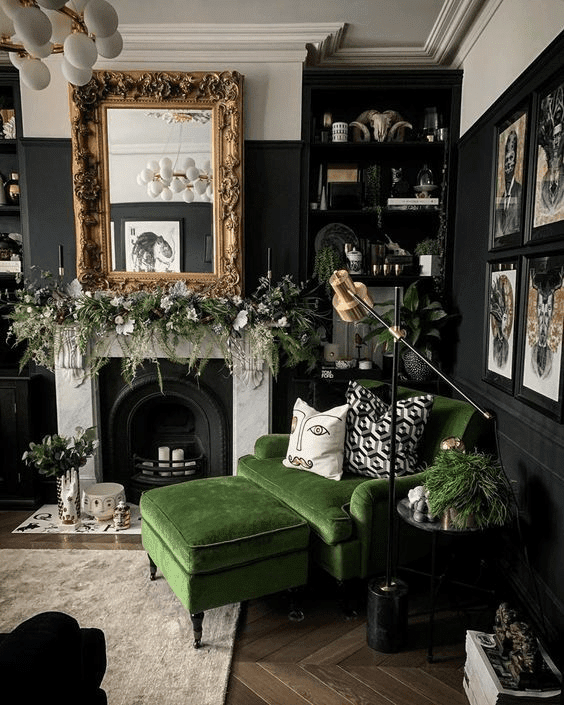 Victorian interior design was also highly linked to the Industrial Revolution, which had a great impact on the design of the time, increasing the prosperity of all classes and allowing them to improve and modernize their homes. Many chose to use architectural furniture models that were available, until then, only to the aristocracy and the upper class.
As a result, the English nobility could waste great amounts of funds on luxury goods, thus refining their homes. English citizens had the opportunity to travel, overcoming the limits of countries and going into contact with Eastern cultures. In those times, noble families purchased exotic objects that were used as interior design accessories, art objects, and household decor.
In these houses, the owners crowded as many pieces of furniture, fabrics, and accessories, all in one room, in an attempt to showcase the new cultural trends, the idea of ​​prosperity and status. In those times, there was the belief that the emptiness of a room is a clear sign of bad taste and poverty. Today, this concept is completely reversed – all designers value the simplicity of a decor and are careful not to overload it with decorative elements that make clients mentally tired.
Nowadays, it is quite hard to stay true to the Victorian style, because the times have changed and our perception of things is not what it was before. Still, we can borrow specific decor elements that reflect prosperity and good taste and implement them into modern Victorian style interiors.
The straight, vertical, arched lines and elongated stripes distinguish the Victorian English aspect of interior design. This style stands out among others because of its use of deconstruction. This technique combines various interior solutions for the whole house, but with specific styles for every separate room. For example, the home office can be conducted in a classic English style, the dining room in Gothic, and the bedroom – in Rococo.
The materials used to decorate these types of rooms are valuable natural types of wood, expensive textiles, marble, and other precious stones. All these elements are there to emphasize the viability and status of the homeowner. None of them should be replaced with a more economical, unnatural analog. Despite a large number of details and saturation, everything in these interiors should be characterized by a sense of proportion, but, every detail should also speak for itself.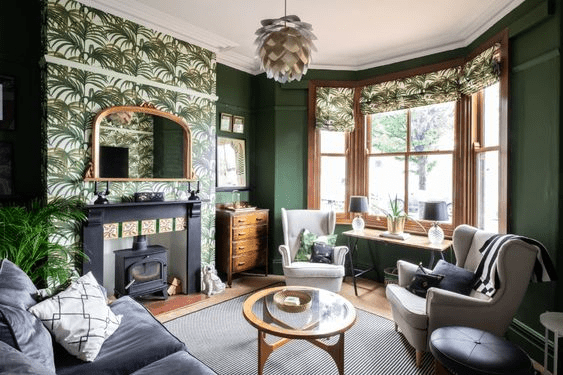 The essential features of the Victorian style are:
Colors: these include warm tones and pastel shades on a gray or cream background. The most commonly used colors are shades of black, dark brown, cherry, shades of blue, mustard yellow, olive, rust, sage, and "dusty" shades like  "rose ash".
Fabrics: this style offers a variety of vintage fabrics and rich ornaments with floral prints to choose from. Velvet is one of the indispensable ones, along with lace and silk.
Patterns: complex patterns always covered every surface of old, authentic Victorian houses – from different wallpapers to luxury fabrics and oriental rugs, Victorian interiors generously integrate geometric, floral, and faunal elements.Furniture: the furniture is typically lush – excess is often considered synonymous with the Victorian interior design. The furniture in this particular design is quite diverse. Here, you can talk of chairs with high carved backs and soft chairs with curved legs. The upholstery is opulent, with super plush and of various patterns. However, expensive, heavy fabrics like genuine leather are also used for this purpose. Leather inserts on small sofas are especially suitable.
Furniture and accessories are elaborate and range from delicate to massive. The decorations are extravagant: lace with intricate patterns, stained glass, busts, souvenirs, paintings or framed pictures, rich and layered fabrics, as well as abundant accessories. It goes without saying that the Victorian style is not a reserved one and is far from being considered simple; it represents the essence of excess and wealth.
The fireplace during the reign of Queen Victoria of England was an essential element of the house. No living rooms could do without this attribute. Distinctive features of an English fireplace are: cast iron grill; a mantle of natural stone, such as marble. The faience patterns are arranged on the sides of the fireplace. The fireplace represents the peace and comfort of the house, a place to gather together on a snowy evening and relax. Today, this attribute can be set up in a classic form, fulfilling its main functions, or be an electric one –  just a designer accessory.
Now that you feel motivated to take on new styles for your home and refresh its atmosphere, take a look at our NY Furniture Outlets online store, where you will find generous collections of furniture in this classy, elegant, opulent yet suitable for our times style.