Christina Trevanion Biography
Christina Trevanion (born; Christina Helen Johanne Trevanion) is a British auctioneer and television personality. She presents BBC Show's Bargain Hunt and serves as an expert on Antiques Road Trip, Flog It!, and Put Your Money Where Your Mouth Is. She is the owner of Trevanion & Dean, a fine art & antiques auction house on the Shropshire/Cheshire/Welsh border.
How Old Is Christina Trevanion
She was born on June 12, 1981 in Shropshire, England.
Christina Trevanion Height
She stands at a height of 5 feet 5 inches tall.
Christina Trevanion Education
She graduated from Southampton Solent University where she majored in Fine Arts Valuation.
Christina Trevanion Family
She is the daughter of David Trevanion and Hazel Trevanion.  Her mother was a florist and an auction fanatic, she introduced Christine to the world of auction. Her father died at the age of 66 in 2013 after a battle with cancer. She has two siblings; Morwenn and Nicole Trevanion, who has down syndrome.
Christina Trevanion Sister
Christina's sister Nicole has down syndrome. In November 2018 she tweeted a picture showing Nicole polishing silver antiques at the family's auction house in Shropshire. A troll commented 'You got the looks then'.
Christina tweeted back: 'Wow. Initially I felt incredibly angry at your response to me posting a picture of me & my sister who happens to have Down's Syndrome. But now, I just feel incredibly sad that you judge your world on looks. What a narrow minded, shallow & ignorant person u are. Enjoy being blocked.'
Christina later said she'd wanted to speak out in order to highlight how people with Down's Syndrome are viewed in society.
'My driving force behind this is to show that people with Down's Syndrome have an active role to play. Too often they are hidden away – in homes and other places – and the more opportunities they are given the more they'll be accepted in society.I've had previous comments and never spoken back before but on this occasion I felt I had to speak out for my sister.'
She added that she is very protective of her sister adding that Nicole works part time at her business and enjoys being part of the team.
'Nicola lives with my mother, so it gives her a little respite when she helps out here. She loves coming in and she really enjoys being part of the team – it gives her a real sense of purpose.'
Christina Trevanion Husband
Christina has managed to keep her personal life out of the limelight, she is married but the name of her husband is unknown. The couple shares three children together.
Christina Trevanion Antique Dealer – Auctioneer
Trevanion is a British auctioneer who specializes in jewelry, gold and silver, 20th-century decorative arts, costume, and textiles. She was introduced to the antique world by her mother who was a florist and a closet auction enthusiast. She began going to auctions at a young age alongside her mother. She has worked for Christie's, a top British auction house in London, United Kingdom.
In 2018 she became a member of the National Association of Valuers and Auctioneers and was awarded a Fellow grade.
Christina Trevanion House
Christina owns an auction house, Trevanion & Dean Auctioneers & Valuers which she founded in 2014 alongside Aaron Dean, an antique enthusiast whom she met while at Southampton Solent University.
The house is located in The Joyce Building, Whitchurch, Shropshire. They run a monthly auction of Fine Arts, Antiques and Collectables with about 8 teams. They get a certain commission off any item its auctions. The action house has successfully sold a Cartier dressing table set for £32,000, a Lady Penelope puppet used in the TV series, Thunderbolt, for £19,000, and a Leonides collection of 66 letters for £25,000 among other lots.
Christina Trevanion Bargain Hunt
Christina is an auction expert on The Bargain Hunt since 2013. There were rumors that she had left the show in 2020 but she squashed the rumors by posting a photo of herself on June 25, 2020 while on set.
Great to be back filming @BBCBargainHunt today… and in the directors chair! ? ? ? pic.twitter.com/jeWaG1GRO7

— Christina Trevanion (@CTrevanion) June 25, 2020
Christina Trevanion and Timothy Medhurst
Christina and Timothy Medhurst are valuers and auctioneers who present the BBC TV show, Antiques Road Trip.
Christina Trevanion Weight Loss
In early 2017 Christina shared a picture of herself on Twitter to celebrate the end of an alcohol-free January and the ushering in of a boozy February. The image showed off Christina's impressive weight loss.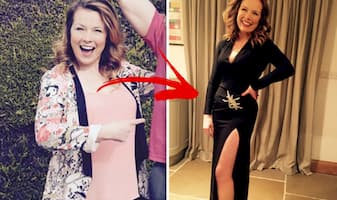 Christina Trevanion Net worth
Her net worth is unknown although some websites state her net worth at $600,000.
Christina Trevanion Instagram
Christina Trevanion Twitter